Ah. Strangely familiar-sounding isn't it? =)

This dish was a little bit of an experiment.

I was in the supermarket earlier and bought a lemon for 15pence.

We had chicken thighs in the freezer and some really good but cheap mango chutney from a supermarket special (i'd bought it not knowing what to do with it and so it was just sitting in the fridge).

So I figured, why not make some Lemon Chicken?

I know it's sweet, and sour and crispy.
So, my dear partner in the kitchen, Chef Wai, and I decided to give it a whirl.

Mind you, we don't actually know what goes into making real Lemon Chicken, but we both remember it's taste and texture and look.

And it seems, we made it happen! Thumbs up from the whole house! Woohoo!!!

Successful experiment. Very Simple too ... try it!

--------------------------------------------------------



Lemon-Mango Chutney Chicken


(serves 5)



Ingredients:



2 Chicken Thighs
1/2 Lemon
4 tbs Mango Chutney
1 tbs Sugar
1 ts Corn flour (for thickening)
spring onion (for garnishing)





Step 1: Preparing the Chicken



defrost, wash and debone the chicken thighs.


then give the chicken a massage with the back of a knife or a pounder to tenderise the meat and flatten it out to create a bigger surface area. (frankly, it really just feeds more people for less.)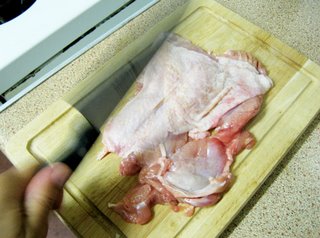 Step 2: Preparing ingredients for the Sauce

slice your lemon in half and make 4-5 thin slices for garnishing (you leave that aside).
take the remaining lemon and squeeze out the juice andsome pulp into a bowl.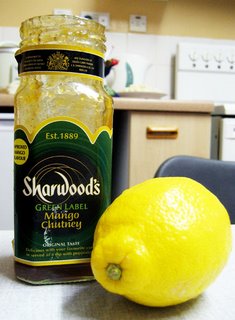 Step 3: Fry the Chicken



what it says -fry the chicken till its golden brown.

try not to be afraid of the oil. it WILL splatter. so be careful. and don't panic. this is hot oil we're talking about.

it takes about 8 minutes or so to totally cook one piece of chicken on both sides. so while you're doing this, you can meddle with the sauce simultaneously.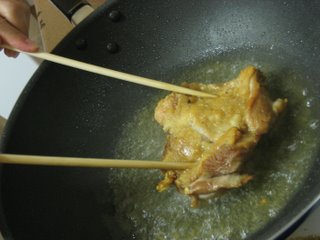 Step 4: Cook the Sauce

take a frying pan or saucepan and gently simmer the mango chutney and lemon juice till it mixes nicely. add in the sugar to soften the sour bite.

the sauce will be a little watery at this point, so mix the corn flour with water and slowly stir it into the sauce.

it should now be the color and consistency of liquid warm caramel.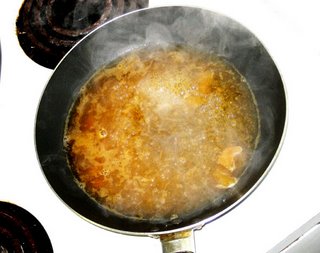 Step 5: Cut the Chicken



your chicken should be done by now. so drain it of the excess oil and cut it into bite sized strips and place it nicely in a dish.

be careful! its hot!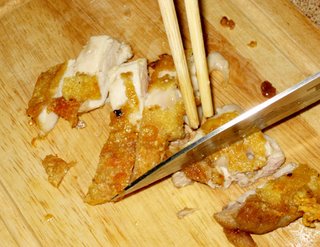 Step 6: Sauce, Garnish & Serve!



pour the sauce over the chicken, place lemon slices on top everything and to add a little pizzaz, you can add an artfully sliced sprig of spring onion on top of that.

the final product ...


WOOHOOOOOOOOOooooooooooooooooooo!!!
nice. *burp*
till next time!